About
How I Came to Believe Worshipful Brass Belongs in Church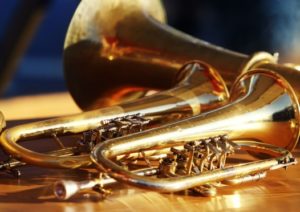 For several years I lived in rural Iowa where my main access to high-quality sacred music was the local Catholic cathedral. Singing there professionally once in a while, I sang on one occasion when we were accompanied by five brass players and a timpanist. I noticed that the stirring and robust sound of the instruments really encouraged strong, enthusiastic singing from the hundreds of people present, though the great majority of them were not trained singers. Even more striking to me, however, was how strongly I felt the Lord's Spirit as I joined my voice with so many others in praising the Savior. It was elevating, uplifting, even transcendent. The sonorities that filled the space felt regal and godly, and filled me with a sense of awe for the Lord's majesty. I felt moved upon to turn my heart to Him even more earnestly.
When I arrived home, I sat alone in the garage and cried before coming into the house, tears both happy and sad.  I felt tremendous joy for what I had just experienced, but also deep sadness for all the brothers and sisters of my own faith missing out on such an experience, and all the skilled, faithful brass players in each of the congregations I'd served as the music director whose participation I'd had to deny.  It felt injurious to my spirit that not all sincere, worshipful testimonies of the Savior could have a place in our services, "that all may be profited thereby," and that something so spiritually uplifting would be withheld.
Creating the Worshipful Brass Website
I felt strongly impressed by the Spirit that instead of attempting to explain or argue points, far more compelling would be to allow the hymns to speak for themselves—or rather allow the hymns to illuminate the Spirit's own voice.  We simply needed to be able to hear the music.  To facilitate this, there needed to be a safe, respectful venue where contributors could share, and friends and leaders could listen.  This website was thus born out of a desire to create that space and honor the heartfelt, worshipful musical offerings of faith and testimony expressed through these unconventional instruments. The recordings gathered here demonstrate the worshipfulness these instruments and their players are capable of. Like other musicians, they have developed their musical talents with great care, dedication, and sacrifice.  I believe you will be able to feel of their sincerity as you listen.
Brass and Other Unconventional Instruments in the Scriptures and Church Music History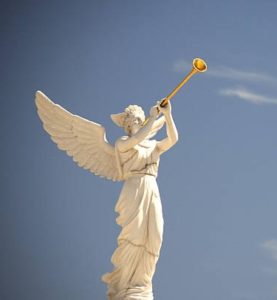 We may associate brass instruments today with genres such as jazz or marching band, but numerous references in scripture indicate they have played (and will play) an important role in religious observance, allusions to missionary work, the voices of God and angels, and even calling forth the spirits of the dead.  Depictions of the Savior thronged by trumpet-bearing angels abound in art that dons the walls of our meeting houses and homes.  Even our temples, the most sacred edifices on the earth, are topped with the iconic statues of the angel Moroni boldly heralding the Second Coming of Christ—and pressed to his lips is not a piano, violin, or flute, as beautiful as those instruments are, but a trump.  Alma, who yearned to play it himself, called it "the trump of God" (Alma 29:1).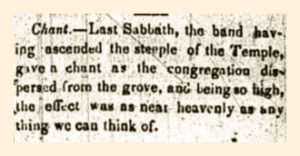 Brass instruments also played a prominent role in Latter-day Saint foundations.  In fact, the April 15, 1841 issue of Times and Seasons, the official newspaper of the The Church of Jesus Christ of Latter-day Saints from 1839-1846, describes the performance of the brass band that played when the cornerstones of the Nauvoo temple were laid.  Thereafter, when Nauvoo received wave upon wave of newly converted immigrants, brass players assembled at the steeple of the temple itself to welcome the new Saints with music.  The Nauvoo Neighbor, a weekly paper edited by then-apostle and future Church president John Taylor, described their offerings "as near heavenly as anything we can think of" (August 13, 1845).
A Higher, Holier Way
President Russell M. Nelson has called upon members of The Church of Jesus Christ of Latter-day Saints to live "in a higher, holier way."  We can apply President Nelson's exhortation to our musical worship by seeking the guidance of the Spirit, and exercising discernment to understand an individual musician's heart, intentions, and skill level, rather than relying on cultural traditions and assumptions that turn us away from inquiring of the Lord, since we may have the perception that the decision has already been made for us.
Tad R. Callister, an emeritus General Authority and former Sunday School general president, had this to say about principles versus rules:  "Why is it more effective to teach principles than rules? There are at least two key reasons: First, rules are often limited to one or perhaps a few specific situations, while principles generally have much broader application. Second, principles create an environment that maximizes agency while rules tend to minimize agency by restricting, sometimes even dictating our choices…. Principles are compatible with the higher law, rules with the lesser. Our constant focus should be to teach doctrinal principles. Why? Because principles have the greatest capacity to lift us to celestial heights, and in the end, principles — not rules — will govern in the celestial kingdom."  (Read Elder Callister's full "Principles Versus Rules" article here.)
A Heartfelt Invitation
I hope this compilation of testimony and song will demonstrate how brass and other unconventional instruments can appropriately play a role in musical worship.  I pray that we will be able to embrace and make a place in our sanctuaries for all devoted followers of Christ who desire to testify of Him through song.  I invite you to listen and "let the Holy Spirit guide."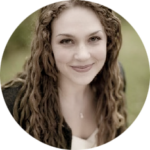 With respect and gratitude,
Emily A. Spencer
Prescott, AZ
"With trumpets and sound of cornet make a joyful noise before the Lord, the King."
(Psalm 98:6)